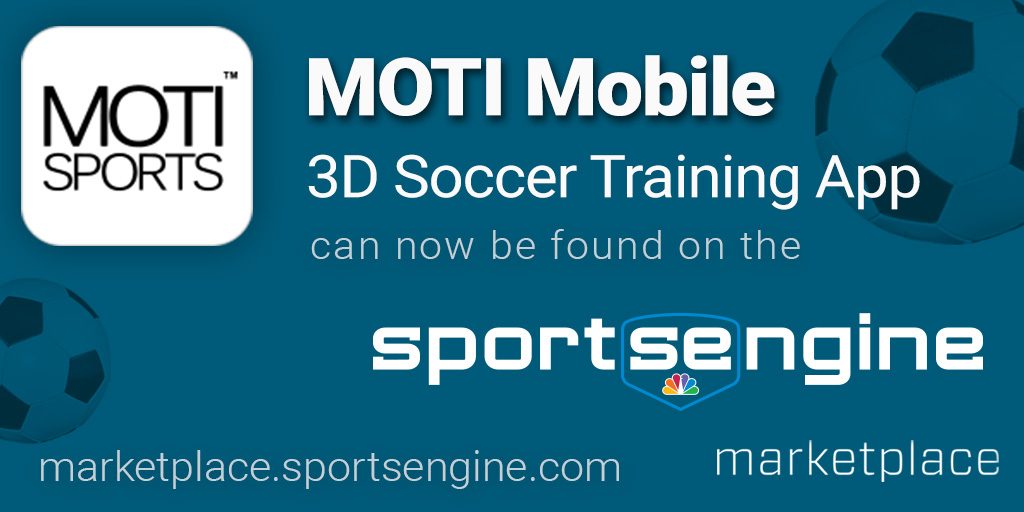 MOTI Sports joins SportsEngine Marketplace to Provide MOTI's 3D Soccer Training Platform and MOTI Soccer App (previously known as MOTI Mobile) to Coaches and Players.
MOTI Sports, Inc. joined the SportsEngine Marketplace to offer MOTI's 3D Soccer Training solution to coaches and players via MOTI's Soccer app. Successful soccer programs need volunteer coaches that are consistently training the players using appropriate techniques (foot skills) and activities (drills) for the players to have fun and thrive. This need makes MOTI Sports 3D Soccer Training & MOTI Soccer App the perfect complement for SportsEngine's soccer organizations volunteer coaches & players. Using the MOTI Soccer App enables coaches to have a season's practice session plans in their hands to follow, that are visually engaging, easy to understand, and are narrated with all the coaching points to follow.  Players using the MOTI Soccer App develop their techniques using the 3D motion-capture skills and quickly learn close ball control skills. Organizations now have a method to have different age/skill teams using the same 3D curriculum with analytics providing feedback to the organization, coach, and player.
MOTI Sports is an industry leader in using 3D animation in youth sports training, enabling coaches and players to watch and study techniques and activities from any perspective, increasing comprehension and speeding development.
"Many organizations struggle to recruit and staffing volunteer coaches, working to ensure they have a proper training curriculum in their hands that they understand how it works, and a way of walking the new coach through running a proper training session. MOTI provides organizations with a solution of putting that session plan in the hands of their coaches and player's practice-by-practice, week-by-week supporting them through the entire season," says Gordy Thomas, CEO of MOTI Sports. "Eliminating the guesswork of what practice sessions should consist of, MOTI provides proven choices of both Play-Practice-Play and Traditional Skill-Drill-Game-Development methods for the organization to choose from".
Coaches will view and reference the session plans on average 30 times during the season. On average, coaches will see specific techniques 65 and activities 29 times for a total average viewing time of just under 2 hours per coach (depending on their experience).
"This is a game-changer for us – many of our coaches at the younger ages have little to no training in soccer. MOTI allows us provide these coaches with a continuum of lesson plans they can see and understand and easily utilize. The coaches are now better prepared to meet needs of the players with developmentally appropriate soccer training, "says David Tarleton, President North Metro Soccer Association.
Melonie Robran, Treasurer Corcoran Soccer remarked, "I am really glad we tried it. I think it was a phenomenal tool that provided our coaches something substantial that they could teach their players. We're a rec league so we get some coaches, who may not take that opportunity, but the ones who are ready for it and the players who want to learn more certainly utilized it. We are very pleased with the first season results." "
Steve Doimer, Director of Coaching for Wright County Soccer said "MOTI is giving us everything we need in our hand to run a decent session. We can run everything from an average session to a fantastic session, and that it just depends on where that coach is in their development as well. The difference being is that coach that is just running a decent session would be running a bad session without it."
"We are excited to welcome MOTI Sports to the SportsEngine Marketplace," said Jody Vogelaar, Senior Vice President of Marketing and Content, SportsEngine. "Providing coaches and volunteers with tools like the ones MOTI offers is part of our mission to help streamline processes and save coaches time so they can spend more time focused on their athletes."
About MOTI™ Sports, Inc.
MOTI™ Sports Inc. is a software company based in Minneapolis, Minnesota. MOTI specializes in the development and delivery of software and 3D digital content for use by coaches, players, parents, and fans in youth sports (6 – 12 years old). MOTI™ Sports Inc. helps its customers by providing tools & subscriptions which enable coaches to utilize and or design and share plays with their team through a "3D Gaming" medium. Coaches, teachers, players, students, and parents learn how to execute unique plays and movements associated with their individual sports. Fans can use the tools to engage in their favorite sport through a new medium.
To learn more, visit https://motisports.com, facebook.com/motisportsinc, twitter.com/motisportsinc, instagram.com/motisports/?hl=en
About SportsEngine, Inc.
Helping the world play smarter and live more, SportsEngine, Inc., an NBC Sports Group company, is the leading software provider of sport life management solutions for 35MM coaches, parents, athletes, and sport relationship management applications for more than 1MM clubs, leagues, governing bodies, and associations. SportsEngine helps sports organizations around the globe reduce the time they spend on administrative tasks, and enables them to focus more on developing their athletes, providing safe experiences, and furthering the love of sport.
Learn more at: http://www.sportsengine.com, Facebook.com/sportsengine; or twitter.com/@sportsengine .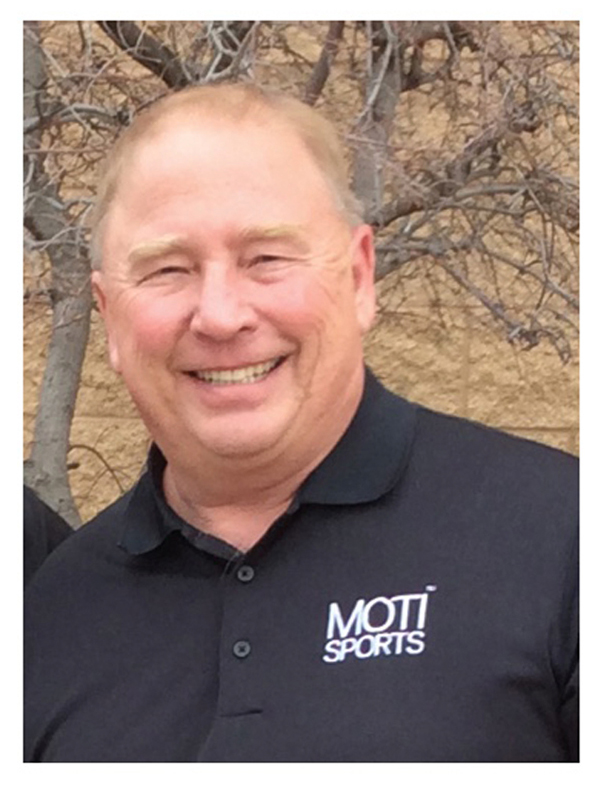 I have served in the capacity of the board-appointed leadership role (since 2014), and on the board since 2010.  I farm in west-central Minnesota. My prior business background includes co-founder and owner of Davis, Thomas & Associates, Inc. (DTA) with offices in Minneapolis MN, Chicago IL, and Bangalore India.  I was a former systems programmer in the banking, hospital, and transportation industries.