Why 3D Animation for teaching youth players 6- 12 years old?
MOTI Sports, Inc. began as a project between an NFL Football Coach and an animator. The Coach was trying to solve the problem of "why are my players not looking at the X's & O's diagrams and studying them in their 3-ring notebooks", but they will watch Madden Football.

We patented a 2D to 3D drawing tool that creates 3D animated drills/scenarios/activities for sports coaches and players to watch and gain understanding of the strategy presented.
MOTI used motion capture to record techniques and skills that players need to learn and master to be able to play the sport well.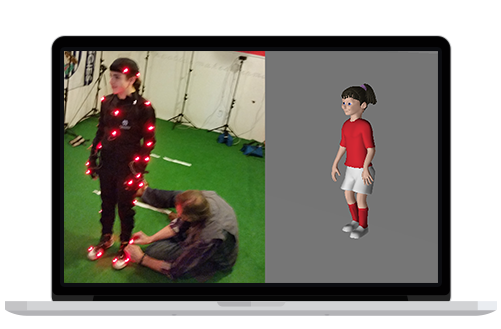 We created 3D Animations to teach youth sports to coaches and players because of these benefits:
Players ages 6 to 9 relate to Animated Characters – because it is easy to see themselves as that character.
Animated stories can teach Empathy – as youth envision themselves as a character in the story, they attach their emotions to that character and learn how they feel in a situation.
Animations are a Multi Sensory teaching tool – players SEE and HEAR what the character is doing. 3D animation allows the player to sense this learning from any perspective.
Animations separate the youth's behavior from their person – when comfortable with the animated character it is easy for youth to envision themselves as that character. If that character can do a technique or skill youth, they believe they can do the technique or skill,. Seeing a video of an adult doing the skill does not transfer that belief that the youth can do that skill..Youth know adults can do things they are not physically capable of.
Youth Imitate Character's Behavior and Actions – ever see youth acting out a cartoon character behavior or action? It happens all the time. Youth absorb sports skills the same way.
Animations are an effective way to Convey Information – as youth become comfortable with a character, they focus on the message or actions being conveyed vs the person or environment presented in a video.
Animations are a way to Engage Youth – when youth are entertained they are engaged. If youth are watching an animation and they see some movement by a character does not conform, but is later corrected, they become engaged with Empathy. They also learn that correcting movement is acceptable form of behavior. They will watch for it.
Animated Stories create a Shared Viewing Experience – when watched as a group or even individually, one of the best ways to teach is to have a common story everyone sees and can talk about. Animations provide that safe story where the actions of the characters can be taken about.
Animations are a Powerful Social Learning Platform – animated characters present a safe method of discussing actions and making corrections to them, without singling out an individual.
Animations provide time to coaches and players to transition – showing an animation of a drill / activity during a water break to youth is a great way to allow everyone to do a mental reset and visioning for the next activity.
Through the years with computer 3D animation we can now create the perfect movement or Skill/Technique for players to Imitate.

We have motion captured the primary, intermediate, and advanced Foot Skills/Techniques for Soccer for youth to train with. We have created 3D Animations of Activities for coaches to use themselves and with players creating a "reverse-classroom" on the pitch.
Get the MOTI Soccer Training app:


MOTI Soccer for Android: https://motisports.com/google-soccer-app/


MOTI Soccer for iOS: https://motisports.com/apple-soccer-app/

I have served in the capacity of the board-appointed leadership role (since 2014), and on the board since 2010.  I farm in west-central Minnesota. My prior business background includes co-founder and owner of Davis, Thomas & Associates, Inc. (DTA) with offices in Minneapolis MN, Chicago IL, and Bangalore India.  I was a former systems programmer in the banking, hospital, and transportation industries.