Goal setting
Goal setting is an exciting topic.
Athletes can set many good goals for themselves before and during the season. You want them to come up with them, not you set them so that they take ownership of them. You also want them to be measurable.
Soccer athletes want to improve on basic things, for example:
Increase speed.
Increase strength.
Better first touches.
Develop better balance and flexibility.
Increase agility.
Better nutrition.
Become more explosive.
Improved aerobic conditioning.
Notice what is not included. Things that they have no control over, like scoring 10 or more goals during the season, having 8 shutouts, never getting carded, etc.
I coached for over 40 years at the same High School, all but 6 of those years as an assistant. I coached for 5 different head coaches over those years. This medium-sized public high school is a frequent State Tournament participant and has won multiple State titles. Every year they are ranked in the Top 10.
Now each head coach was different. Each brought to the team their own "coaching personality." But the underlying coaching philosophy remained the same for all. How is it that consistent excellence has been achieved over these many years within this one program?
Choosing Team Goals
A common practice in most programs after choosing the Varsity players is for the coach to have a team meeting in which the players talk about their team goals for the upcoming season. The coach simply records the ideas from this "brainstorming" session on a whiteboard and then they talk about them as a team. At the high school I coached at, the current head coach of 11 years (my former assistant varsity coach and a former player at this high school) shared with me this season's whiteboard.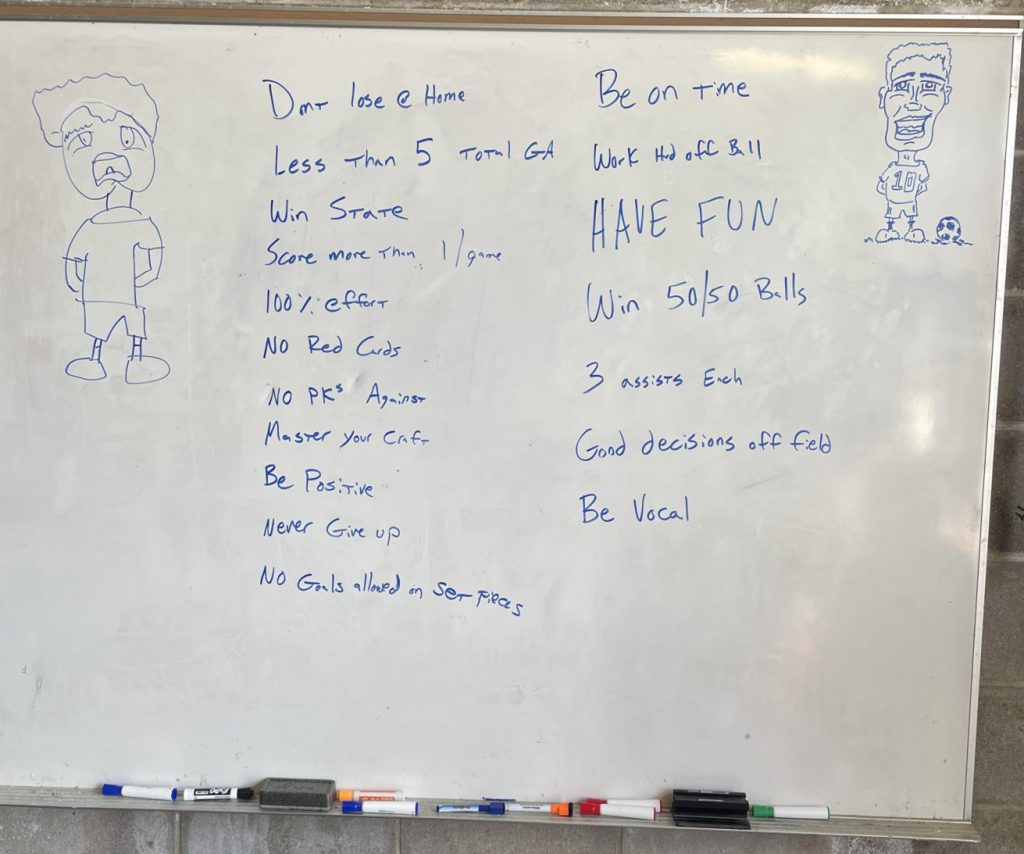 If you cannot read the writing, here are the things that this particular team wants to focus on this season:
Don't lose at home
Less than 5 total goals (given up over the entire season)
Win State
Score more than 1 goal per game
100% effort
No red cards
No Penalty Kicks (PK's) against
Master your craft
Be positive
Never give up
No goals allowed on set pieces
Be on time
Work hard off the ball
HAVE FUN
Win 50/50 balls
3 assists each
Good decisions off the field
Be vocal
Setting the Vision
Every coach has a vision for what they consider their perfectly played game is. The coach's job is to transfer that Vision to the players for them to execute. (Ralf Rangnick • How Jürgen Klopp transformed Liverpool and the key to being an elite head coach)
When you read this list you get a feel for what this coach, and the coaches who came before him, want the game his players play to look like. What do you notice about this list? What is the focus? What do you think their game plan is every time they take the field? Why do you think the opposition both loves – and hates – to play them?
Think of how strong you are in your own half of the field to give up less than 5 goals per season. Or how focused, trained, and disciplined to never give up a set piece goal. They do win almost every 50/50 ball. They do work hard and never give up, on the ball or off. Their game is played fast, with plenty of meaningful possession as they find a way to break lines of defense and attack for multiple goals each game. They encourage each other, not criticize each other when someone makes a mistake. They have fun!
A Mindset
It is a mindset that, regardless of the age or skill of the players that season, they know they will compete at the highest level in our State.
Part of setting goals is to have a system in place for you to monitor them. Not only for you and your coaching staff but also share them with your players. They are the ones that are making your Vision come to life on the field.
I have looked at a number of different team goal-setting systems. The one that I have chosen to use fits my personality the best and, I believe, gives our team a good snapshot into the things we want to accomplish during a game to help us be successful. It also looks very similar to the whiteboard list. HUM?
Match and Seasonal Standards
It is called "Match and Seasonal Standards." I have a point system that I use for each item, which yields an overall score as a percentage. It is difficult to get 100%, as it should be. But it has been done! We won, by the way 🙂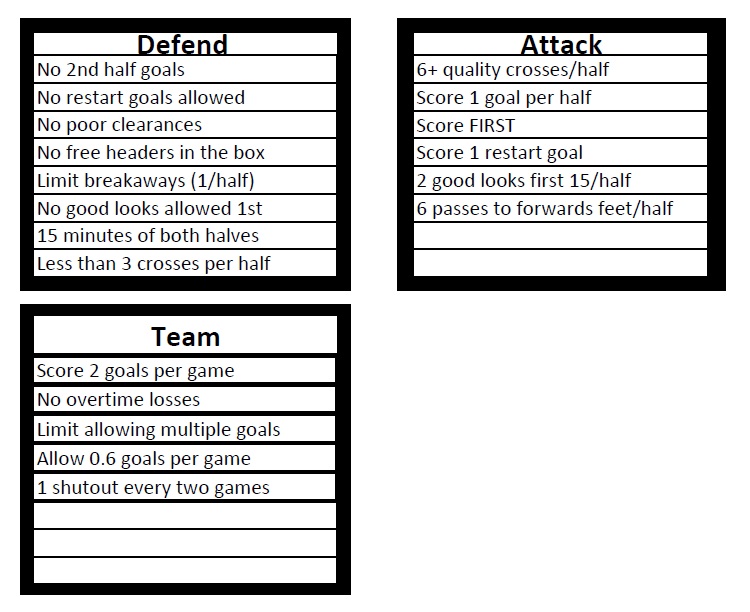 Can you envision a definite style of play?
How are we organized defensively? I vary my system of play depending on my personnel. But no matter what the system of play is, the basic concepts of pressure, support, and cover remain no matter where the ball is on the field. We defend as a team, and with passion. A clean sheet is always what we are looking for.
Do we build from the back? Hard to tell from these measurements. We encourage it, but it depends a lot on the personnel. If I have a keeper who can "pass" the ball with accuracy 70 yards, then I definitely will use that weapon to stretch the field. Building from the back now becomes much easier.
Are we looking for through balls? Yes, but first we want to play to our forward's feet to create space behind the defense. Then using concepts like opening up, passing the way you are facing, over and underlaps, give and goes, etc. we use the midfield to find the spaces behind the defense to break down that last line of defense. This often occurs on the flanks. Hence, the emphasis on crosses.
How efficient are we on set pieces? We are always looking for areas in the game that other teams might not pay as much attention to. Set pieces is perhaps the most neglected area for many coaches. Just imagine a time when you can get equal numbers, or perhaps even numbers up when you have a chance to attack the goal. We take advantage of all restarts in the attacking end through repeated training. Everyone knows their job, and when executed correctly we create great opportunities to score. It has become a part of our program's DNA.
Set pieces win games, especially at the State Tournament level where every team has learned to play great team defense. And don't forget the long throw. Last season we won the State Tournament Championship game with 3 goals on designed set pieces – 2 goals on long throws and one on a direct kick from midfield.
How good are we at defending set pieces? We zone on corner kicks. We have a forward set the wall. We practice our toughness and courage on shots into the wall and clearing high, wide and deep. We mark tight but give way slightly to remain goal side. We leave nothing to chance. And most importantly we work into our final half or three-quarter field scrimmage on a practice day live set pieces. Time spend on set pieces is never wasted.
Have a simple way to measure your standards, that gives you talking points at half-time. How many passes to forwards feet did we have? How many "good" crosses did we have? Did we come out flying in the first 15 minutes to pin them back on their own end and create chances for us? Were we so organized on our own end that we eliminated breakaways, won headers, cleared properly, and defended every set piece with courage and conviction?
Vision leads to success!
When your players know what your priorities are, they become their priorities. They then start to see your Vision for how you want them to play the game. Then, when they execute it on the field and have success, it breeds confidence in themselves and their teammates.

Brad has coached a variety of sports in the community, middle school, and high school for 40 years including coaching the MN 2021 Class A State High School Champion.  He has coached soccer from U6 at the recreational level to U19 at the club level and all age groups at the high school level, including 11 years as a head coach.  He holds a USSF "B" coaching license and USC diplomas.